Journal
Fresh Eggs
Just less than a week to go before the PV of our first studio exhibition in three years.
Spring Rituals II - Fresh Eggs
The new 'clutch' of eggs are taking shape in Swedish overlay white glass, white and gold and black overlay.
Why Eggs at Easter ?
So today I learned why Eggs maybe so closely associated with Easter. Partly because the Church adopted Eggs as a pre-Christian ancient symbol of life and re-birth, and, in the Middle Ages, the Church forbade the eating of meat and eggs during lent. Farmers suddenly had a lot of eggs, which were boiled, decorated, consecrated and given away for the table on Easter Sunday.
Our forthcoming Studio Exhibition⁠ will revisit the theme of engraved eggs.
⁠Kate show here in the door to her private studio about to start work on a new Egg.
Priceless Antiques Roadshow
First aired in 2010 last nights repeat of the wonderful Christopher Payne talking about his glass collection on Priceless Antiques Roadshow was a treat to see.
This little clip was life changing back in 2010. Many thanks to all concerned.
Although we no longer make the Vine Leaf Design, we do make two designs in Cobalt Blue, the Summer Leaves and the Long leaves.
'The Bowl here is an ancient looking shape, its got the sort of feel of ancient Persian roman glass probably of the 1st century, and this wonderful colour and the contrast of these dark blue leaves' Christopher Payne.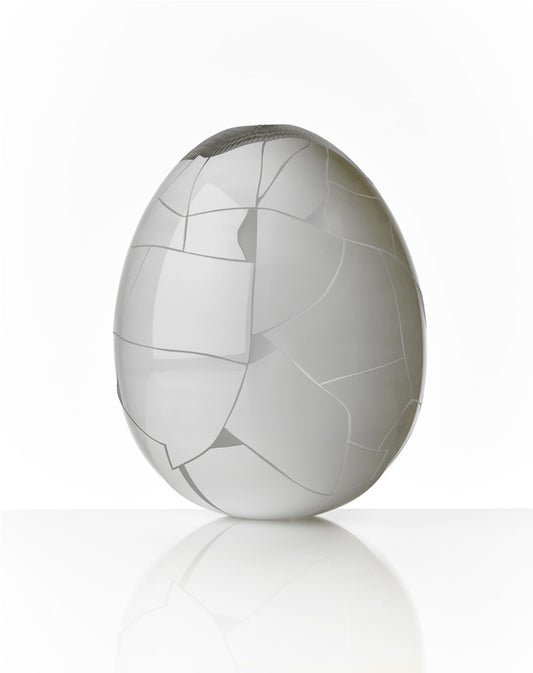 Save the Date - Fresh Eggs
SPRING RITUALS II - 'Fresh Eggs'
Exhibition - 27th March to 30th April 2023, Rosedale Abbey.
We hope you can join us as we revisit the theme of engraved eggs in our first studio exhibition for over three years.
Decorated eggs have long been a potent cross-cultural symbol of new beginnings and the forthcoming Spring.
A new collection of pieces, principally inspired by the eggs of the now extinct Elephant bird, explore the patterns made by the reassembly of giant fossils.
Intricate surface designs celebrate the unassuming but incredibly symbolic egg, with engraved forms in both transparent and opaque blown glass. The form and patterns portray the function of the egg as a protector of new life and its inherent fragility. The fragmented patterns are universal in their structure, like cracked dry earth or breaking ice sheets.
The reassembled eggs have a power and beauty celebrated in Japanese culture; Kintsugi highlights the repair of a broken object with any repair scars painted gold, in part a celebration of the past while enabling the future function of the object.
If you'd like an invitation to the private view, Join our newsletter here.
Image shown is a piece from our 2018 exhibition.
Re Opening our Studio Doors
After our winter refresh and time working behind closed doors we are painted, polished and ready to welcome visitors once again.
We are open Monday - Saturdays 10am - 4pm and Sunday afternoons 2pm - 4pm from March 1st until December 20th 2023.
See you soon.
Hoar Frost
I love winters beauty, the cold snap has cooled the dale and created layer upon layer of ice crystals. The seed heads, grasses and evergreens are thickly coated in an exquisitely constructed hoar frost. When my feet and hands have warmed up I'm off back out with a 'bigger' lens..
Glass is Movement
Glass is movement as the old Swedish glassmaking T shirt says (glassmakers will know the one).
Glass making is a way of life, working with glass is always engaging, always creative, always joyful.
Heat and Light
Heat and light.... our favourite combination. Love glassmaking.